Resources
Krav Maga Yashir Boston

Charlestown, MA
View Larger Map
Krav Maga Yashir Boston
Charlestown Maritime Ctr (3 FL)
Charlestown
MA 02129

Tel: (339) 224-8005


Krav Maga Yashir

Newsletter
For news of seminars, special events, book releases and more, sign up for our newsletter.
Krav Maga Seminars
Guest Instructors & Trainers
Due to our strong connections with Israel and the international Krav Maga community, we are able to not only take students to Israel to train with elite close combat instructors but also bring top trainers/instructors to our Boston school. To see details of some of the past events we've run please click here
Saturday Oct 21st (12:30 PM - 2:00 PM)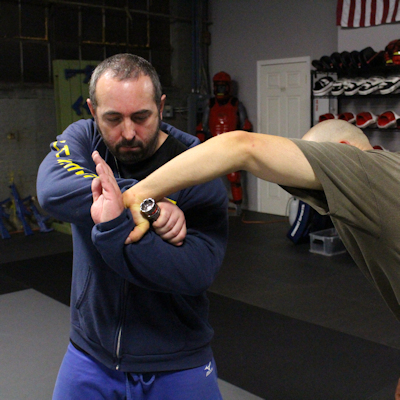 With the days shortening and darkness coming earlier (the clocks go back on the November 5th), many of us will soon find ourselves both going to work and coming home in the dark. A University of Virginia study (Doleac and Sanders), showed that after the clocks change, and an hour of light in the evening is lost to the morning, robberies go up 7 % overall, and by 27% in the sunset hour that is lost. This means that our chances of being targeted and involved in a violent crime go up considerably. There are however things we can do to reduce this risk, and this involves reducing our vulnerabilities. One tool that can help us accomplish this is a tactical flashlight. These relatively inexpensive safety aids, can deliver a temporarily blinding light to an assailant, and are also solid enough to be used as a striking and grappling implement – they also fulfill the role of a flashlight and can be used as a security light to illuminate areas (such as around our car, front door, etc.), where an attacker can use the cover of darkness to help conceal themselves.
In this 90-minute seminar, attendees will be introduced to a variety of tactical and regular flashlights, and come to understand the strengths and weaknesses of each, along with the legal considerations that need to be taken into account when selecting one. Blinding and disengagement strategies will be taught, along with physical solutions to a variety of attacks and assaults. Along with the Tactical Flashlight, the use of Tactical Pens will be taught – these safety tools are considered legal in almost all settings, and so are a useful piece of equipment that you can have on you at almost all times. Both of these less-than-lethal options, allow you the opportunity to carry something which can increase your survival chances significantly.
This 90-minute seminar is free for students of Krav Maga Yashir, but is also open to non-members of the school, for $75 (This amount will be refunded if you become a member of the school within 7 days of the seminar). If you are a student of Krav Maga Yashir, please use the link in the email you received to register. If you are not a member of the school, please use the button below to book your place (this seminar will be held at our Charlestown Studio, where there is free onsite parking).
the seminar will be held at our Charlestown Studio (free onsite parking), which is located at:

Krav Maga Yashir Boston
Charlestown Maritime Center (3 FL)
200 Terminal Street
Charlestown
MA 02129
For detailed driving instructions please click here.