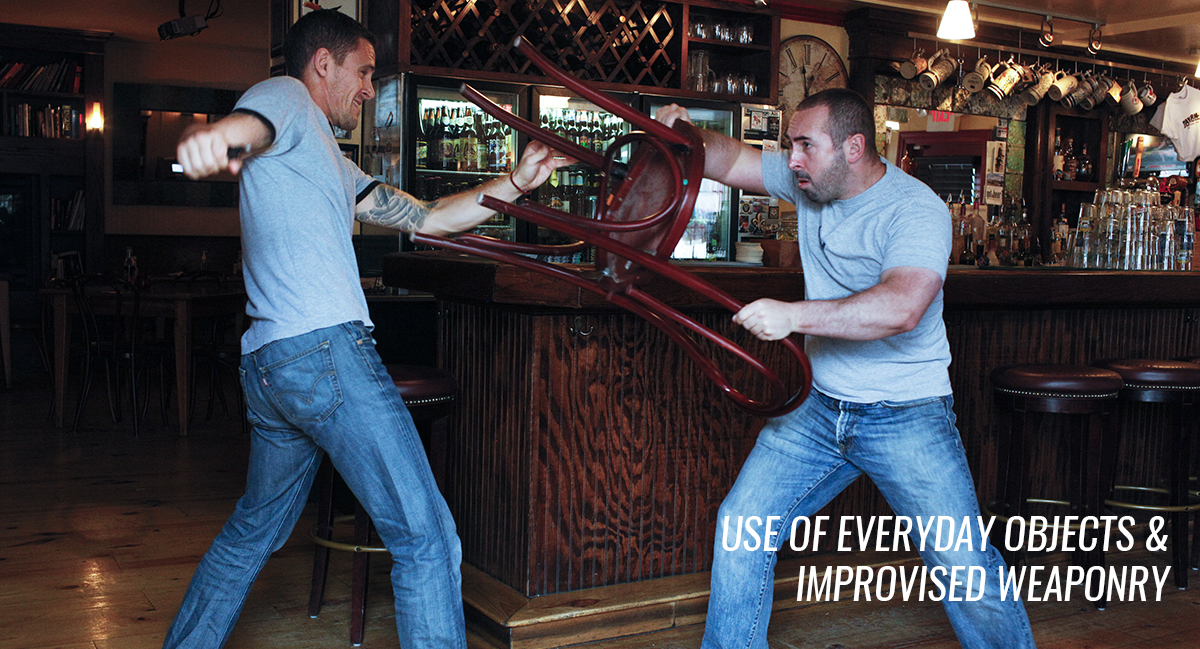 Resources
Krav Maga Yashir Boston

Charlestown, MA
View Larger Map
Krav Maga Yashir Boston
Charlestown Maritime Ctr (3 FL)
Charlestown
MA 02129

Tel: (339) 224-8005


Krav Maga Yashir

Newsletter
For news of seminars, special events, book releases and more, sign up for our newsletter.
Krav Maga FAQ's
Frequently Asked Questions
If you have questions about our program(s) please take a look to see if it is answered on this page. If not please feel free to contact us with your enquiry by clicking here. If you would rather just take a free class and have your questions answered in person please book one online by clicking here.
The questions below are the ones that we find are most commonly asked. The list is of course not exhaustive, and if your questions aren't answered by those below, please don't hesitate to contact us.
Click on any question below to be taken to the answer: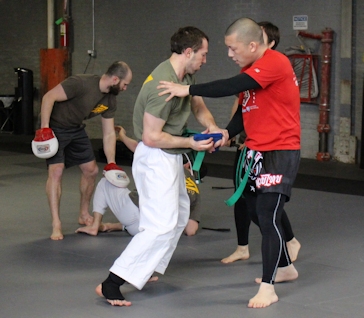 Krav Maga systems on the whole are fairly basic, being designed to get people to handle a lot of situations very quickly. Originally the idea was to create a self-defense system rather than a fighting system; meaning quick defenses and escapes etc followed by immediate disengagement. An approach that is ideally suited for training soldiers in non-specialized infantry units and who have little time in their training schedule to spare for actual hand-to-hand combat.
Our program is far more comprehensive than the majority of Krav Maga programs that are taught outside of Israel. Our aim is to build an individual's fighting skills e.g. balance, stability and effective movement etc so that a student can survive those situations where disengagement is not an option. Within Israel this is how Krav Maga is taught, unfortunately outside of Israel this side of self-defense is rarely taught or developed. In fact in some schools that teach Krav Maga, classes may be little more than a workout, with a few self-defense techniques thrown in.
The first 6 months of our program is dedicated to getting you able to defend yourself in the shortest possible time against the most common and realistic street attacks e.g. we don't spend a lot of time dealing with unrealistic attacks such as static chokes etc and instead concentrate on those types of assault which a person is most likely to face, such as muggings, face-to-face disputes etc.
At the same time we start to develop actual fighting skills, like range control, generation of power etc that enable people to become truly comprehensive fighters. These skills take a little more time.
You can take as many Krav Maga classes as you want, training twice a day, five times a week etc. however we wouldn't recommend it, as you will soon find yourself tired and exhausted. In such a state you will find that you start to get diminishing returns from your training. Most of our students find that training 2-3 times a week, is the optimal number of times to train in a 7 day period.
When you join Krav Maga Yashir Boston you will receive the following benefits:


Unlimited Krav Maga Classes
Black Belt Instruction Direct From Israe
CQC/Reality Based Training Seminars
Environmental & Beach Training Classes
Tactical Medical Training
SEPS Personal Safety Training
Unlimited Bootcamp Training
Access to our 16 000 sq ft facility
Use of Our 5000 Sq Ft Gym & Instruction
Discounts On Visiting Instructor Seminars
Opportunities To Train in Israel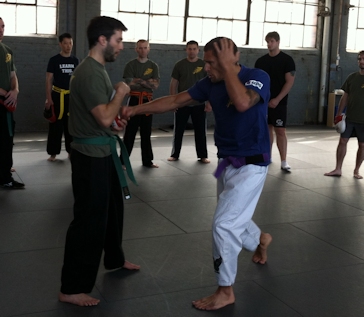 We charge $165/month for unlimited training and access to all the services and classes above - this is $129/mo if you are law enforcement, military, corrections, a veteran, a first responder or a full time student (At signing you will receive a copy of "Krav Maga - Real World Solutions To Real World Violence" by Gershon Ben Keren. Above all you get to be part of a school and a community that is serious about its Krav Maga training, where members are supportive of each other and train without ego. Our school is very different to most martial arts school, and models itself on the collective/family approach that typifies Krav Maga & Self Defense schools in Israel. We offer a week of free training so that you can experience our unique atmosphere and training environment, and get to experience authentic Israeli Krav Maga- there is no hard sell or "sales pitch",and we never try to convince anyone to join, we simply present what we do on the mats and let our teaching and training speak for itself.
To book a free class and start your free week of training click here.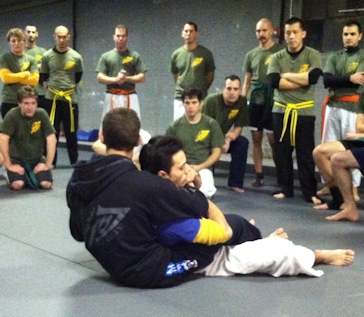 When you first come and train with us, we suggest you wear loose fitting training clothes. We are a fully matted gym and so we request that you train barefoot or that you wear dedicated mat shoes e.g. wrestling boots, martial arts shoes etc. When you join the center/academy you will be given the school T-shirt to wear. If you wish to spar you will need to purchase sparring equipment however this type of training isn't introduced until later in your training so there is no immediate need to purchase.
Whatever your fitness level is at present you will be able to take part in a Krav Maga class. In our "Beginners Krav Maga" classes we will work with you to help build up your fitness and stamina. Through the use of fighting games, drills and pad work you will soon see improvements to your fitness.
If you want to make rapid improvements in this are you should consider taking our "Cosher Kravi" (Combat Fitness) classes. Take a look at our Fitness Training Page by clicking here.
These classes and this training is only open to members of the school. However if you would like to book a regular free trial class and get a taste of our "Cosher Kravi", combat fitness training, which we also fit into our regular classes, you can book a free trial class by Clicking Here