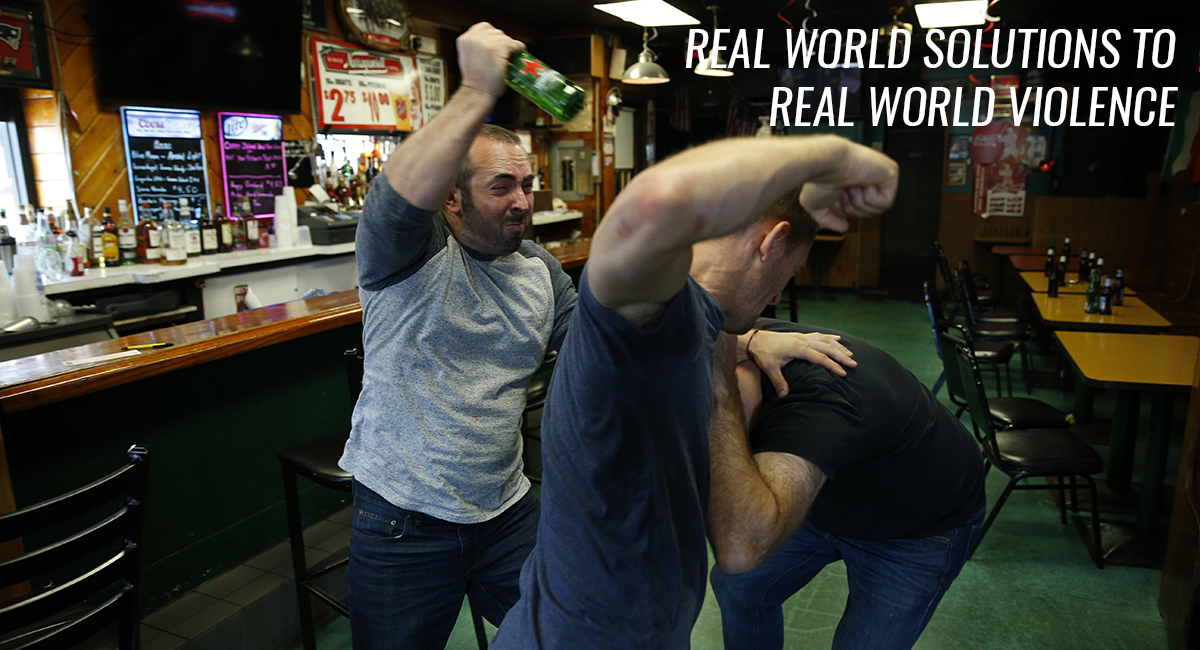 Resources
Krav Maga Yashir Boston

Charlestown, MA
View Larger Map
Krav Maga Yashir Boston
Charlestown Maritime Ctr (3 FL)
Charlestown
MA 02129

Tel: (339) 224-8005


Krav Maga Yashir

Newsletter
For news of seminars, special events, book releases and more, sign up for our newsletter.
About Krav Maga
Authentic Krav Maga From Israel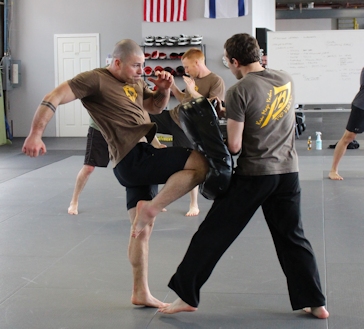 Krav Maga, meaning "Contact Combat" is Hebrew is the term the IDF (Israeli Defense Forces) use to refer to their unarmed/close combat systems. Krav Maga is a comprehensive martial art/self-defense system that teaches you how to deal with a variety of attacks and assaults, that may or may not involve weapons (knife, gun, stick etc...) and which may be carried out by one or more assailants. The system teaches all of its defenses from a state of unpreparedness and never makes the assumption that you are athletically superior to your attacker(s) e.g. you're stronger, faster etc. The underlying goal of Krav Maga training is to get an untrained person "Combat Ready" in the shortest possible time.
Our Krav Maga program is taught and run by Gershon Ben Keren, a 5th Degree Black Belt, who was trained, tested and certified in Israel. He has been training in Krav Maga since 1994, and teaches that, which is taught in Israel, regularly returning, and training with IDF members to make sure that the Krav Maga taught in the school is the most up-to-date and modern approach to reality based self-defense. If you would like to book a free trial class, so you can find out first-hand why our approach to self-defense training is so effective, please Click Here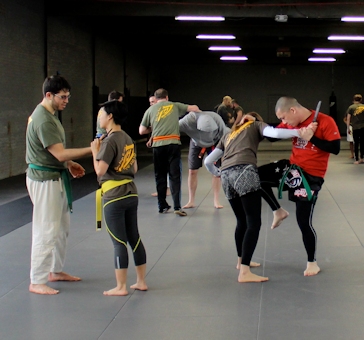 From the moment you start training in Krav Maga you will learn how to handle situations such as street robberies, muggings, bar brawls, sexual assaults and the like - Somerville, Medford and Boston may be a long way away from the West Bank in Israel but the same techniques an IDF soldier uses to keep him safe whilst patrolling those streets will work equally well in these settings/locations. Whatever the situation you may face we have the solution(s) for dealing with it.
Not only will we train you to be able to physically defend yourself against all manner of threats and assaults, we will also train you to have the same level of awareness as your IDF counterpart. We will teach you how to understand your environment and identify potential threats and dangers within it. We will even go one step further and teach you how to use the environment (parked cars, tables, chairs etc) and any objects in it to facilitate your survival.
Our training is authentic and comes directly from Israel. Head Instructor, Gershon Ben Keren, trains direct at the source returning several times a year to update his training. He received both his instructor certification and Black Belt in Israel and has been inducted into the Israeli Museum of Martial Arts. Students at the school have also been to Israel with him to train and have taken part in seminars and training sessions conducted by some of Israel's top military trainers.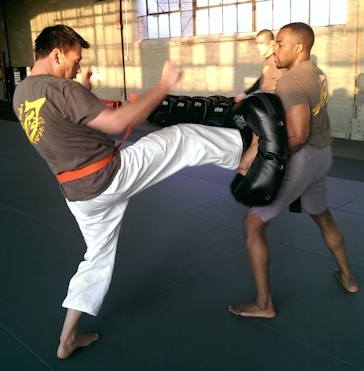 Much of what we teach has not been seen outside of Israel and our training should not be compared to a lot of the out-of-date Krav Maga that has made its way into the U.S. - training methods and approaches that have not been updated since the 1980's. We are a truly comprehensive martial art/fighting system that teaches all components and ranges of fighting and which develops real fighting skills which have been proven in combat in some of the most extreme situations on the planet.
Don't become the victim: learn to turn from prey to predator and survive any violent assault and/or threat. We don't want you to simply take our word for it but to come and take a week free of classes in order to find out for yourself why authentic Israeli Krav Maga is the most realistic and comprehensive fighting system in existence.
If you would like to book a free trial class, so you can find out first-hand why our approach to self-defense training is so effective, please Click Here
Our system is divided into four core components: Combatives, Self Defense, Self-Protection and Combat Fitness. All of these areas are taught and developed within our classes.
Krav Maga - Combatives
We use the term "Combatives" to refer to the offensive techniques and fighting tactics we teach. In these classes you will be taught to strike and kick with power, block punches as well as how to effectively throw and takedown opponents. You will also learn groundwork. This part of our training focuses on developing the necessary physical skills that will make your striking stronger, your movement faster and more effective and provide the foundation for the self-defense techniques that you will be taught. You will work on pads and with partners as well as be introduced to sparring.
Krav Maga - Self Defense (Haganah Atmeet)
Our Self Defense component takes the skills and techniques that have been learnt in the "Combatives" program and makes it effective for real life situations and scenarios. It also introduces you as to how to deal with weapon threats and attacks, involving: knives, guns, sticks and other weapons. We teach disarming as well as how to use the weapon against the assailant(s), if necessary. You will also learn how to escape from common holds and controls, such as headlocks, bear hugs and strangles etc. Our training is scenario based and so we explain how particular situations develop and why an assailant will attack or threaten in a particular way. It is also realistic. We make sure that the person playing the role of an attacker, attacks in a realistic way e.g. an assailant wielding a knife recoils after their attacks and keeps their movements small and fast.
Krav Maga - Self Protection
Self Defense is what you engage in when your "Self Protection" tactics and strategies have failed or been foiled. This component will educate you as to how to identify, prevent and avoid violence in the first place. You will learn how to recognize Pre-Violence Indicators (PVI's) and lower your own Victim Facilitators (VF's) i.e. the things, habits and behaviors you engage in that could put you on a predatory individual's radar.
Krav Maga - Combat Fitness (Cosher Kravi)
There are three components to reality based self-defense: simple effective techniques, an aggressive mindset and physical fitness. Israeli soldiers are known the world over for their extreme levels of physical fitness. All our classes involve some degree of fitness training however we run specific sessions to develop this component properly and fully. We use a mix of Kettlebells, Weights, Medicine Balls etc and once a week do some form of running training outdoors.
If you would like to book a free trial class, so you can find out first-hand why our approach to self-defense training is so effective, please Click Here