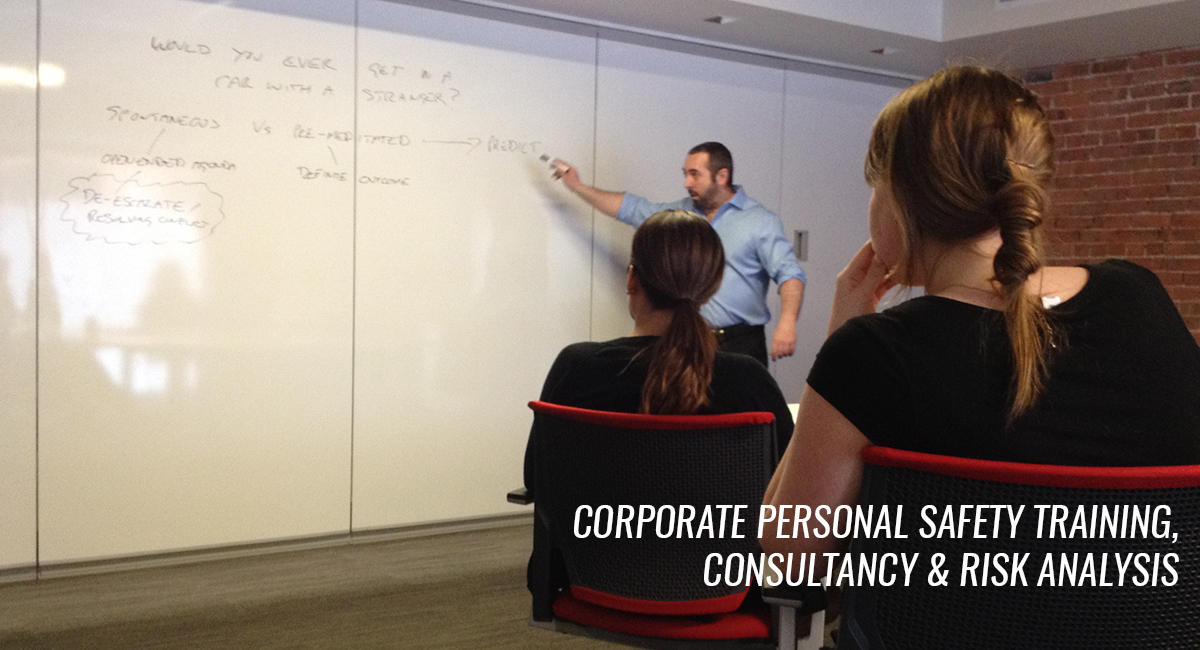 Resources
Krav Maga Yashir Boston

Charlestown, MA
View Larger Map
Krav Maga Yashir Boston
Charlestown Maritime Ctr (3 FL)
Charlestown
MA 02129

Tel: (339) 224-8005


Krav Maga Yashir

Newsletter
For news of seminars, special events, book releases and more, sign up for our newsletter.
Corporate Services
Seminars, Training & Consultancy In Boston
If you would like us to organize an afternoon, morning or day of specialist Krav Maga and/or Personal Safety training, either at our studio or your place of work we are more than able to accommodate this. We have put on specialist training sessions, lectures and demonstrations for many businesses in the Greater Boston and Massachusetts area (we are happy to provide a list of these and references upon request); some of which focused on teaching general self-defense skills and techniques whilst other addressed specific business needs such as overseas travel in potentially hostile environments. for. Listed below are a series of presentations and seminars we have conducted for corporate enterprises in the past, and which we now offer as standardized seminars. To express an interest in one of these seminars, or to make a general enquiry you can click here.
We are also happy to produce bespoke courses and seminars on just about any personal safety issue, or self-defense requirements that your group, organization or enterprise may have. We have over 20 years experience, in training companies globally in personal safety, self-protection and self-defense.
Please click on one of the seminars below to get a fuller description:


Travel Security & Travel Safety (2 Hours)
Whether you're travelling to another city in the U.S. or abroad, either for business or pleasure, there are certain key security measures you should take to ensure your personal safety. This introductory, 2 hour seminar, equips you with the knowledge to make the right decisions, concerning your security, including how to select the appropriate accommodation and transport, as well as how to act and behave when in a unknown city, and/or foreign country.
Rather than just focus on criminal and terrorist threats, this seminar also covers general safety concerns regarding health and medical, along with road and traffic safety etc. The seminar is structured along the timeline of a vacation or business trip, and instructs the student on how to plan and prepare for the journey, along with how to get to the airport/transport hub, pass through customs and immigration, and get to the hotel etc.
General travel safety advice is given along with practical security measures that can be taken to enhance personal safety when travelling. To enquire about putting on this course at your facility, please click here. If you would like to read more about our travel security offerings please click here.
De-escalation & Conflict Resolution (2 Hours)
Most violence is low level and spontaneous in nature, involving "ordinary" people who have become aggressive and angry, due to injustices (perceived or real) they feel have been committed against them e.g. being cut off in traffic, having a drink spilt over them, or not receiving the level of service they feel they are entitled to (customer service/workplace settings) etc. Knowing how to de-escalate such situations, and resolve conflicts, will allow you the opportunity to prevent such incidents of aggression escalating into physically violent confrontations.
Students are introduced to the psychology of aggression, along with proven methods for reducing emotional levels during verbal confrontations and conflicts (de-escalation). Students will also be taught how to resolve the issues behind such conflicts, whether they involve themselves or other third parties. To enquire about putting on this course at your facility, please click here
Interactive Conflict Resolution Workshop (2 Hours)
This is a 2 hour workshop that looks to allow participants to engage in conflicts and then resolve them. Participants work through a series of exercises that gives them the hands-on experience to both deescalate and resolve conflicts. Using scenario-based training methods, taken from real-life situations, and role-playing different disputes and conflicts, participants will learn how to deescalate angry/emotional customers/clients, resolve disputes with colleagues, and work collaboratively with difficult colleagues etc.
Scenarios will be worked through and debriefed with the pertinent lessons and points being brought out, so that lessons and mistakes can be learnt as well as successes demonstrated. To enquire about putting on this course at your facility, please click here
Dealing with Pre-Meditated Violence (2 Hours)
This 2 hour seminar looks at the different methods and processes predatory individuals (muggers, rapists, burglars etc.) employ, and how through understanding the different stages/phases they have to engage in, in order to carry out their crimes and assaults, it is possible to identify, predict and avoid them. By understanding the "universal" criminal process it is possible to both avoid becoming the victim, as well as know how to handle such situations if you ever find yourself in one.
The purpose of this seminar is not to provide a "safety check list" of do's and don'ts but to empower students in how to prevent themselves from being targeted as victims in the first place, and how to make dynamic risk assessments of the situations they may find themselves in.
This seminar teaches students why certain criminals choose certain crimes, how they plan them and select their targets/victims, along with how to develop the appropriate situational awareness to deal with them. To enquire about putting on this course at your facility, please click here.
Aggressive Mindset Training (2 Hours) - Physical
Whilst it is always good to know how to physically defend yourself, simply knowing techniques is not enough; you must be able to employ them with the correct mindset. This 2 hour seminar teaches the student how to develop an "aggressive mindset" and how to be able to flip the switch when involved in a physically violent confrontation. A few simple striking combinations are taught, as part of the process, though this is no substitute for ongoing self-defense training.
Students are introduced to the adrenal process which occurs when we are confronted by high stress situations, and are taught how to utilize it, and work with it in order to avoid its negative side effects, such as freezing and panicking. To enquire about putting on this course at your facility, please click here.
Effective Decision Making Under Stress (2 Hours)
Being able to think and make decisions in high pressure situations, whether dealing with an angry client/customer or during an assault, is an essential survival skill. Being able to think quickly and effectively when under stress and duress, isn't just necessary when dealing with violence, but a life-skill that can be applied to many different situations from the boardroom, to problem solving in your personal life.
Unfortunately, many of the decision making models that we use in our day-to-day lives, fall apart when we start to become emotional, and pressured, and we need to learn to think in new ways, and make decisions using other methods. This 2 hour presentation looks at different models of decision making and information processing that work even when we are stressed and pressured, allowing us to act decisively even in the most emotional states. To enquire about putting on this course at your facility, please click here.
Introduction to Krav Maga (2 Hours) - Physical
Krav Maga is the hand-to-hand combat system of the Israeli Military. This 2 hour introductory seminar gives and overview of the system and its approach to dealing with physical confrontations, whether they involve armed or unarmed assailants, singular or multiple assailants etc. This seminar introduces the students to the concepts and principles that the system is founded upon, and teaches a few simple instinctual and proven techniques that can be used to deal with a variety of attacks and assaults.
Not only will physical techniques be taught and demonstrated, but they will be put in a situational context, explaining the real world factors that are at play, when dealing with such assaults. This is not a substitute for ongoing training, but an introduction to the system for educational purposes. To enquire about putting on this course at your facility, please click here
Keeping Children Safe (2 Hours)
If you have children and/or look after children, you will want to know how to make sure that they are protected from the various threats and dangers that they face. This 2 hour seminar is a down-to-earth, realistic appraisal of the types of harm that children face, and the practical security measures that can be taken in order to prevent this happening e.g. such as what questions to ask a baby sitter, how to present a strong security presence to onlookers etc.
This 2 hour seminar looks at pedophiles and sexual predators, stranger abductions, dangerous friends and much more. Not only will this seminar realistically inform you, either as the parent or guardian of a child(ren) as to the particular and specific dangers that children face, but also how to communicate these dangers and necessary precautions in a non-alarmist manner to your child(ren), where appropriate. To enquire about putting on this course at your facility, please click here
Sexual Predators & Female Personal Safety (2 Hours)
This 2 hour seminar looks at the different motivations behind sexual assaults, along with the different methods that sexual assailants use in order to gain access to their victims. Using FBI profiles, and real case examples this seminar aims to improve the students understanding of the how's and why's of sexual assaults and rape. Being able to understand the methods and processes that different sexual predators use, it is possible to both identify and avoid them without having to be involved in a physical confrontation.
Rather than give tired advice, such as "don't walk down dark alleys or get into cars with strangers," etc., this seminar shows how sexual predators are adept at circumventing our personal safety rules, and that it is only by assessing individuals and their behaviors/actions on a case-by-case basis that we can look to keep ourselves safe. To enquire about putting on this course at your facility, please click here
Hostage, Kindapping & Abduction Scenarios (2 Hours)
There are many different types of Kidnappings, some of which are virtual and don't even involve the forceful moving of an individual from a location, or restricting their movement within one. Some hostage takings are planned, and others occur due to the specific nature of a situation. Kidnappings along with hostage and abduction scenarios can happen both in the workplace and without, and may be committed by work colleagues, family members, or customers and clients.
This 2 hour presentation looks at the different types of motivations and situations that can lead to us being the victims of such crimes, and looks at the different vulnerabilities that such criminals and predators may exploit. Although these types of crime are statistically rare, we may actually be more at risk than we think. Understanding how to prevent and safely manage these situations, allows us to significantly increase our survival chances during an attempted or realized, kidnapping or abduction. To enquire about putting on this course at your facility, please click here
Campus Safety (2 Hours)
Student campuses have their own security concerns, regarding both the students who live on them, and those who visit and frequent them. This 2 hour seminar aims to give students and faculty an introduction to the types of threats and dangers that they face, and how best to avoid and nullify them. This 2 hour seminar looks not only at low level crime, such as muggings and burglaries but also at higher level crimes such as sexual assaults and campus shootings, etc.
If you are attending college/university or are a faculty member at one this seminar will give you both a background in the types of crime and violence that college/university campuses face, along with practical measures for identifying, predicting and avoiding violence. To enquire about putting on this course at your facility, please click here.
Improvised Weapons (2 Hours)
If you are involved in a physical confrontation, you will wish you had a weapon. You may choose not to carry one for a variety of reasons, however being able to fashion one from the environment around you will mean you never have to engage in a physical confrontation completely unarmed. This 2 hour seminar teaches the student how to identify objects within the environment that could be used defensively/offensively. Utilizing a system used by the IDF (Israeli Defense Forces) students will be taught how to identify and use everyday objects such as keys in their most efficient and effective manner - which does not involve putting them between your fingers as a "knuckle duster" etc.
This 2 hour seminar will look at how to choose effective weapons, along with the legal considerations regarding their use. To enquire about putting on this course at your facility, please click here.
Car & Public Transport Safety (2 Hours)
Modern living sees many people spending prolonged periods of time in their car or on public transport, whether as part of their daily commute, or as part of social and leisure activities. This seminar looks at how to be safe whilst in and around a vehicle, whilst in parking lots and garages, and how to safely exit and enter vehicles when moving between them.
Not only is vehicle security covered but also public transport as well e.g. buses, trains, subway etc. Many predatory individuals are adept at working in these locations, and using them to their advantage. In this 2 hour class, students will be introduced to the most common types of crimes and violent acts that are committed in these settings, and how to predict, prevent, identify and avoid them. To enquire about putting on this course at your facility, please click here.
Dealing With Active Shooters (2 Hours)
This 2 hour seminar is a mix of lecture/presentation coupled with hands on training and drills. The seminar can be tailored to meet an organization/company's direct needs, and can be conducted onsite or at our 16 000 sq ft training facility, depending on the mix of practical and theory that is required e.g. if you are looking for a largely physical seminar, focusing on ways to deal with an active shooter, armed with a variety of weapons etc. then we would suggest that the training is conducted at our facility.
Using case studies, personal testimonies, and real-life active shooter situations, this short seminar looks at simple ways that employees can increase their survival chances in an active shooter incident. There will also be discussion and instruction on simply things that an enterprise can do, including policy and procedures, to limit the effects of an active shooter incident.
The seminar will also look at Active Shooter situations, that are acts of Workplace Violence, discussing ways in which employees, co-workers and management can predict if/when an employee of former employee may be considering taking such action. To enquire about putting on this course at your facility, please click here.
Identifying, Preventing & Managing Workplace Violence (2 Hours)
This 2 hour seminar is aimed at Managers, Supervisors/Team Leaders and Human Resource professionals who either manage individuals and/or are in charge of "Hiring and Firing" etc. This seminar looks at the interview process, and how to identify potentially disruptive, aggressive and violent employees, and how to judge responses to interview questions from a safety perspective.
This seminar also looks at conflict resolution, and how to manage disruptive employees, set limits and boundaries and ensure the safety of employees and co-workers. It will also explain the protocols and structures for managing exit interviews, and how these should be conducted so that personal safety isn't compromised. To enquire about putting on this course at your facility, please click here
Stalking & Dangerous Relationships (2 Hours)
Whether it's a potential partner, a client or customer, it's possible that the relationship we form with them, whether intimate or professional, could end up being harmful for us. It may be that we fail to set the appropriate boundaries, don't recognize when they've been crossed, or are unable to enforce them, allowing dangerous individuals to have access to us in a way that may compromise our personal safety.
This 2 hour presentation, looks at the different methods, that various individuals with predatory and anti-social motivations use, in order to form unhealthy, and abusive relationships, with the goal of exploiting us for personal use, both in our professional and personal lives, and how we can both identify and prevent this from happening.
The presentation will also look at what happens, when these individuals end up trying to continue to have a relationship with us, when we either end it, or try to enforce our boundaries within it. To enquire about putting on this course at your facility, please click here
Hiring & Firing Safely (2 Hours)
Each potential new employee that a company hires, could bring with them a host of personal and professional issues, that could compromise the safety of both the employer and the other employees. Unfortunately, most companies and employers, neglect to do the necessary background checks, ask their potential candidates the right questions, or even consider the potential risks that are involved in bringing new people into their business/organization.
This 2 hour presentation, looks at the hiring process, and where potential issues with a candidate might show up, along with the correct questions to ask at interview to ensure that a candidate will be a safe and productive hire. The presentation will also look at safe ways to conduct disciplinary hearings, terminations and exit interviews. To enquire about putting on this course at your facility, please click here