Resources
Krav Maga Yashir Boston

Charlestown, MA
View Larger Map
Krav Maga Yashir Boston
Charlestown Maritime Ctr (3 FL)
Charlestown
MA 02129

Tel: (339) 224-8005


Krav Maga Yashir

Newsletter
For news of seminars, special events, book releases and more, sign up for our newsletter.
Environmental Training
Krav Maga In Different Environments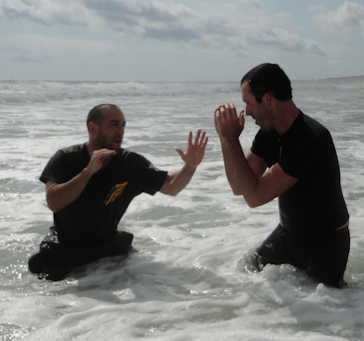 Krav Maga is a reality based self-defense system, which means training has to be conducted in a variety of environments whose terrain and characteristics, can help train adaptability and increase/improve fighting skills. This is why we don't confine our training to the "gym" but take it outdoors as well. Training to fight on an even surface , like martial arts or studio matting, is one thing, to be able to move and fight on an uneven surface, such as sand, grass or a pine leaf strewn surface is another - fancy footwork and kicking become a more challenging exercise.
Training in and under water offers its own challenges. Escaping a choke hold underwater means that it is impossible to take a breath the moment you release the hold, instead you have to continue working to release the hold so you can break the surface and get oxygen. Training with a tidal flow and with your feet on shifting sand means that your balance and stability are automatically compromised; simply staying on your feet is a real fighting skill, and when you train like this you begin to develop propreception in your feet and ankles, which easily translates to less challenging terrain, such as bottle strewn bars and clubs, or uneven concrete and flagstones. By training in different environments, and using the natural characteristics of each it allows us to increase our students fighting skills and attributes.
Fighting and self-defense are about being able to control the environment and use it to your advantage. Being able to alter defenses and techniques based on the terrain you are in is a self-defense skill e.g. being able to know how to change certain components of your defense based on your attacker's level of elevation can be the difference between surviving an assault or succumbing to one. Many people question why you need to learn how to defend yourself against head high kicks because these attacks don't happen on the street. If someone is on a higher step of a flight of stairs to you, you may well find yourself dealing with a head kick if they choose to kick you. Not all fights occur with both parties on the same level ground.
In outdoor training slopes and hills are used to take away your control of movement; being attacked whilst travelling at speed downhill, where your major concern is staying upright means an actual attack/assault can be extremely difficult to deal with, especially if the movement of the assault is pulling you back up-hill. Knowing how to adjust in such a situation by keeping/maintaining your hips under your head is the only thing that will allow you to execute a technique or solution correctly.
Taking your Krav Maga training from the studio/dojo out in to the real world and into a different environment is about training and developing adaptability; about being able to alter what you have learnt in one setting and apply it to a different one. This way of training reflects the way that Krav Maga is trained in Israel and mimics many of the methods that the IDF (Israeli Defense Forces) use to teach their soldiers and operatives real world combat skills.
Our school teaches authentic Krav Maga direct from the source in Israel. To book a free class and experience Israeli Krav Maga firsthand please click here.