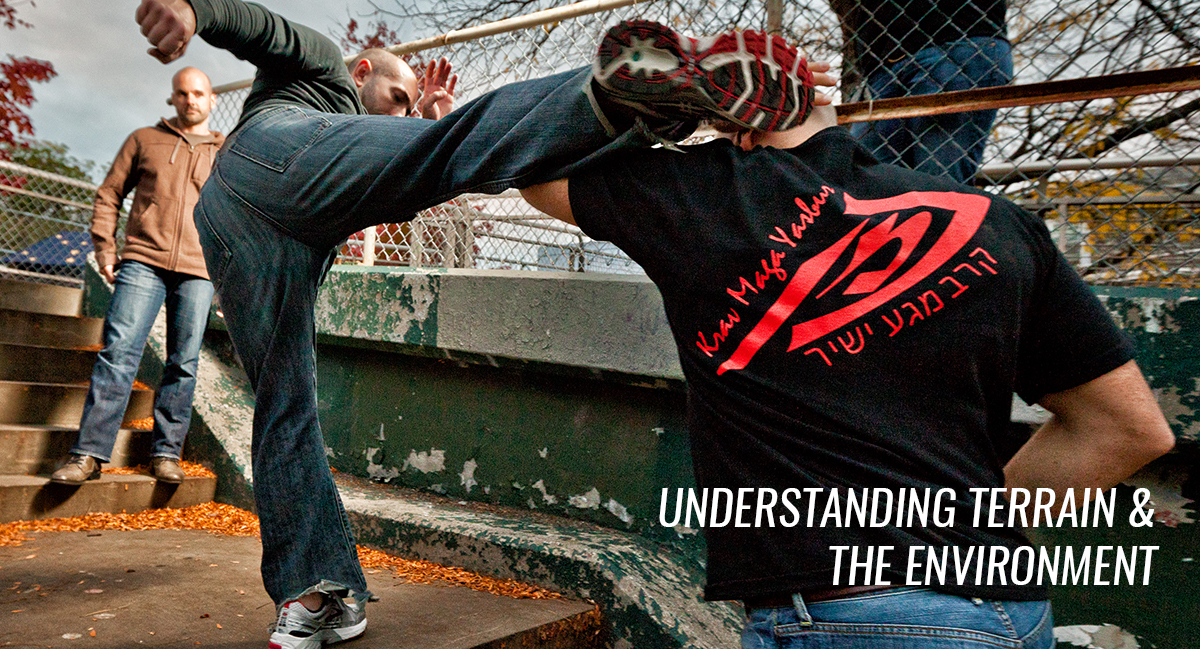 Resources
Krav Maga Yashir Boston

Charlestown, MA
View Larger Map
Krav Maga Yashir Boston
Charlestown Maritime Ctr (3 FL)
Charlestown
MA 02129

Tel: (339) 224-8005


Krav Maga Yashir

Newsletter
For news of seminars, special events, book releases and more, sign up for our newsletter.
Past Seminars
Guest Instructors
Several times a year we bring guest instructors to our school to share their experiences and expertise. Every guest instructor we bring in has a different skill set and background. This allows our students to experience different Krav Maga systems, methods and approaches and gain a new understanding and perspective on the Israeli Martial Arts and Reality Based Self Defense. To see when our next Krav Maga, Security or Personal Safety seminar is please click here.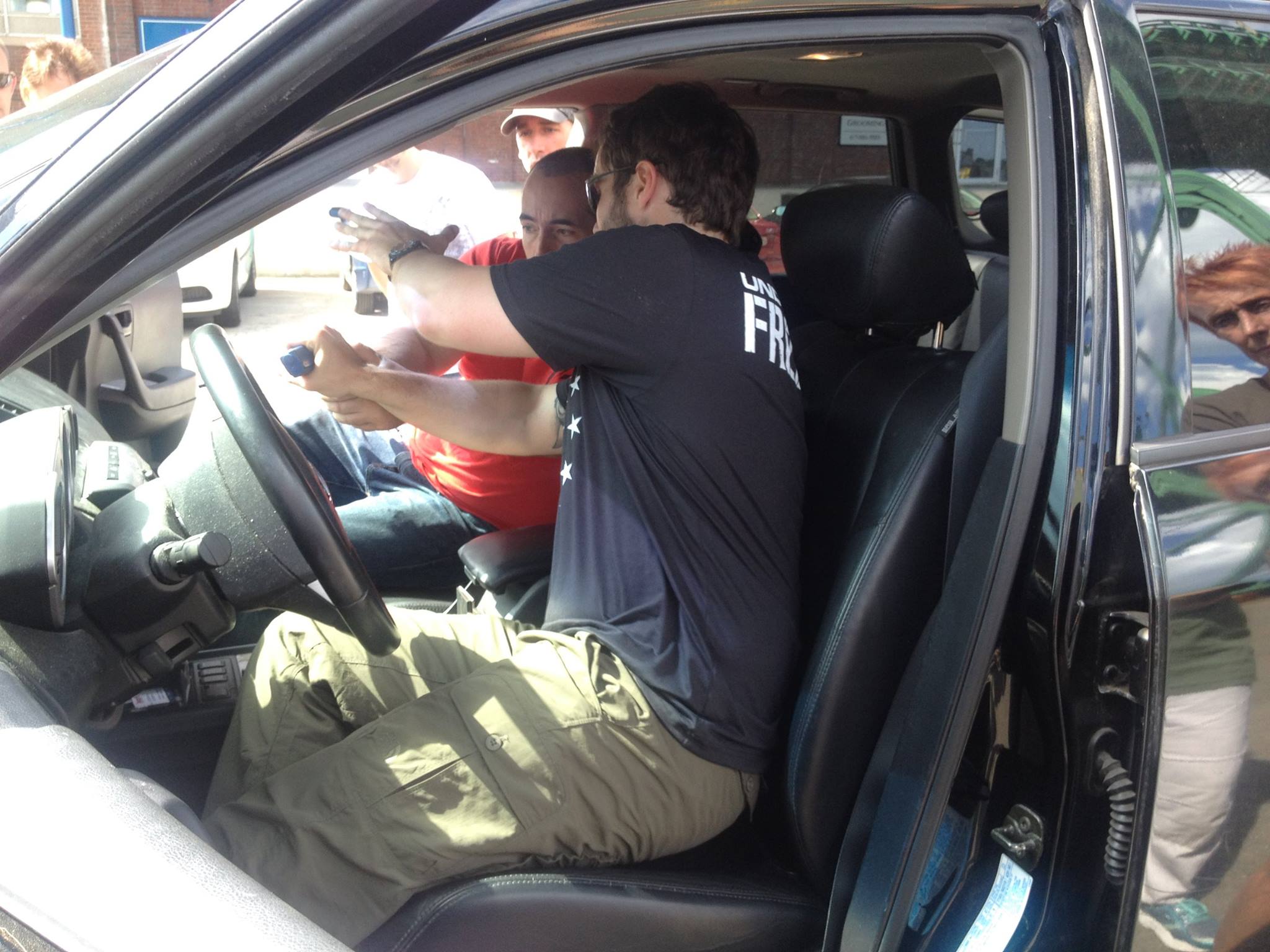 Security & Anti-Terror Specialist Dave Ashworth returned to Krav Maga Yashir Boston, to conduct a series of seminars around Terrorism Awareness, Active Shooters & Escape From Constraints & Restraints. Students were brought up-to-date on the current types of terorist threats and the ways in which these are changing the necessary responses to them. In the Active Shooter seminar, Dave explained the decision making processes that you should employ, and that would help increase your survival chances, should you find yourself in such a situation.
We regularly bring Dave Asshowrth to Boston, to conduct specialist security seminars, so that our students are brought up to date in the latest methods of anti-terror training.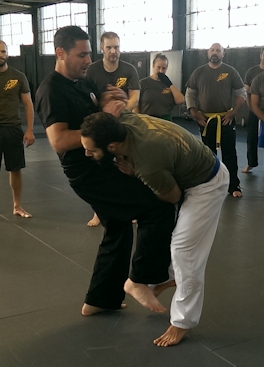 In the Fall of 2014, Ran Steinberg came to Krav Maga Yashir Boston to conduct a series of seminars, one of which involved defenses against Knife Attacks and Threats. Ran is a 7th Degree Black Belt in Dennis Hisardut, a system taught to elite members and units of the IDF (Israeli Defense Forces), and was a Krav Maga instructor in the IDF. The seminar involved some live blade training, where in a controlled and safe manner, students performed techniques against a live blade. This type of training brought an extra level of reality to the training, and demonstrated just how dangerous knife attacks can be.
Ran supplemented the seminars by showing footage of knife attacks, committed by terrorists in Israel, and talked about the high volume of such attacks that go undocumented outside of Israel. the sheer number of attacks that take place against both Israeli citizens and military personnel, means that the solutions that Israeli Martial Arts system, such as Hisardut and Krav Maga take, makes them the most tested self-defense systems in the world.
Krav Maga Yashir is committed to bringing Israel's top instructors, over to Boston, so as the school and system, can stay up to date with the most recent and advanced methods of training, and we are fortunate in Ran to have access to such quality training.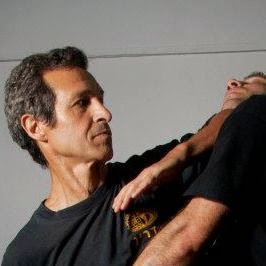 Miki Assulin, was one of Imi Lichtenfeld's first students, and one of the first ten people to earn a Black Belt in Krav Maga, (along with Haim Zut, Haim Gidon and Eli Avikazar). He was graded to 5th Dan by Imi. As well as being one of the first Krav Maga instructors, He also studied Aikido under Eli Avikazar (the IDF's 2nd Krav Maga Chief Instructor - Eli replaced Imi), who later went on to create the Krav Magen system that blended many Aikido techniques, concepts and principles with Krav Maga, and is still being taught in Israel today. Miki was also a Krav Maga instructor to IDF troops, teaching under Eli Avikazar.
There are few more experienced Krav Maga instructors than Miki, and when it is understood that amongst those he has trained are Avi Moyal (current head instructor of the IKMF), Eyal Yanilov and Amnon Darsa (Krav Maga Global), Dror Saporta (IKMA), his place in the worldwide Krav Maga community can be truly appreciated. This seminar was a unique opportunity for students at Krav Maga Yashir Boston to train with one of the world's best and most experienced Krav Maga instructors. Miki's seminars covered basic Krav Maga combatives, along with more advanced training involving knife and gun disarming.
Dr Gavriel Schneider - May 2014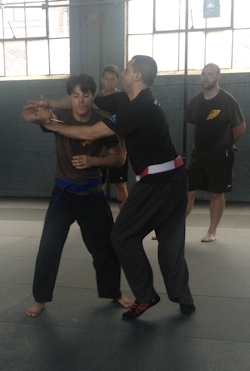 Gavriel Schneider conducted four short seminars at Krav Maga Yashir Boston that covered the following areas: Fundamentals of Self Defense, Standup Striking & Grappling, Weapon's Controls & Disarms, and Ground Fighting/Survival. Using a "Combatives" approach to re-use of techniques Gavriel showed how by breaking attacks into quadrants and using aggressive forward movement, attacks whether armed or unarmed could be dealt with in exactly the same way e.g. if the range of a stick or baton was taken away it could be effectively treated as a short range weapon, such as a knife, or even a punch. Taking this simple and direct approach students were taught a short/abbreviated system that could be applied to a myriad of situations and attacks.
Throughout the weekend this approach was developed and added to, with different dimensions of fighting and combat being brought into the approach. Gavriel is a 6th Degree Black Belt in Hisardut, a system developed by Dennis Hanover, which is in use by elite units of the IDF (Israeli Defense Forces)
Gavriel also runs one of the Southern Hemispheres, premier security companies, servicing clients in South Africa and Australia
Dr Gavriel Schneider - September 2013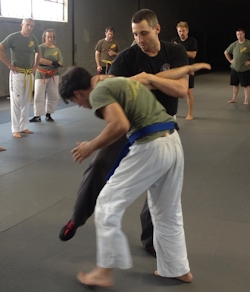 Gavriel Schneider and "Mac" Macguire, came to Boston in September 2013, to conduct a weekend of seminars, teaching the Dennis Hisardut system of fighting/survival. Dennis Hisardut, is a system of fighting which is taught to elite IDF units, and draws from the disciplines of Karate, Judo and Ju-Jitsu, to provide a system of combat, that can work at every range.
Krav Maga Yashir Head Instructor, Gershon Ben Keren, first met Gavriel & "Mac", in Israel in 2011, where both Gavriel and Gershon were being inducted into the first Museum of Israeli Martial Arts.
The seminars concentrated on developing students fighting skills and attributes, rather than simply presenting new techniques and solutions. Often this important area of development gets forgotten, as students look to learn "new" things, rather than build on and develop what they already know. These seminars, were a great back to basics, that saw all attendees abilities enhanced.
Dave Ashworth - June & August 2013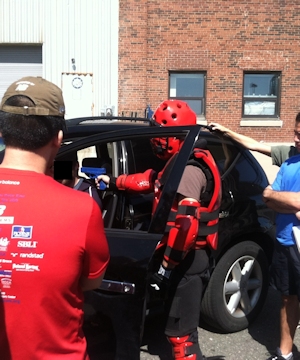 Dave Ashworth is a Close Protection Operative who has worked in some of the toughest and most dangerous regions of the Middle East. Dave is a real world operator who not only works in these regions but also teaches and trains civilians, security and military personnel how to operate and work in these hostile environments. As a former member of the UKSF ( UK Special Forces) Dave is a top Counter Terror Operative who has first hand experience of dealing with some of the most dangerous and skilled terrorist organizations that exist.
In June 2013, he conducted a two day "Terrorism Awareness Course (TAC)" at Krav Maga Yashir Boston. Students were introduced to the ways in which terrorist organizations go about selecting targets and carrying out surveillance on them. A variety of case studies were discussed, using a variety of terrorist groups with very different aims and goals. This course was largely classroom based, with powerpoint and white board presentations, as well as group exercises. In August of 2013, Dave returned two do two shorter seminars on "Travel Security" and "Fighting From Vehicles". Dave is a close friend of Gershon Ben Keren, and returns regularly to Krav Maga Yashir Boston to conduct seminars and courses in a variety of specialist and security related areas.
Roy Elghanayan - May 2013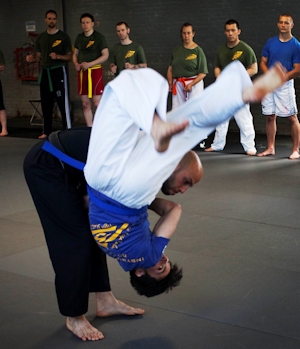 Roy Elghanyan is a Krav Maga & Israeli Ju-Jitsu Expert (4th Degree Black Belt), who is one of the most sought out Krav Maga Instructors in the world. In May of 2013, he conducted a two day seminar at Krav Maga Yashir Boston in Krav Maga and Israeli Ju-Jitsu. Students at the school were introduced to REKM (Roy Elghanyan's Krav Maga System), and were shown how solid martial arts training has been incorporated into modern Krav Maga.
In 2004 he was certified to teach Krav Maga by the Israeli Defense Forces and the Military Training base Wingate Institute (Bahad 8). He is the only person to be twice named Israeli Krav Maga National Champion by the IDF's Chief of Staff, and was hand picked to create a Krav Maga Defense Tactics Program for elite units and divisions that is still in use today. Roy teaches Krav Maga in LA, and has also worked as fight choreographer and trainer for many Hollywood stars. He has also started to produce and act in action films.
Andy Rallings - November 2012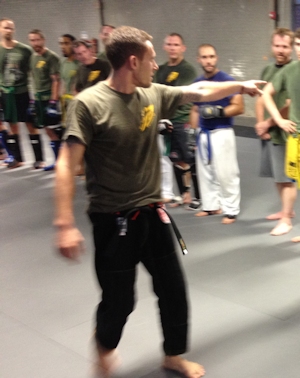 Andy Rallings is a 2nd Degree Black Belt in Krav Maga Yashir, and a martial arts practitioner who is experienced in several other martial arts, with experience fighting in BJJ, Muay Thai, Traditional Knock Down Karate and MMA. Andy regularly comes to Boston to share his experiences of training in various arts, as well as his experience and knowledge of a life time in the security industry.
Andy took students through a variety of martial arts and Krav Maga training areas, from power striking and ground fighting to offensive knife work, utilizing a simple three step knife fighting system that was developed in South African Prisons. It is this breadth of knowledge and experience that make him such a pivotal figure in the Krav Maga Yashir system.
Andy teaches and trains Krav Maga Yashir in the UK, and is one of the founding members of the SEPS (Situation Effective Protection System) Self Protection and Personal Safety System www.selfdefense-seps.com.
David Kahn - April 2012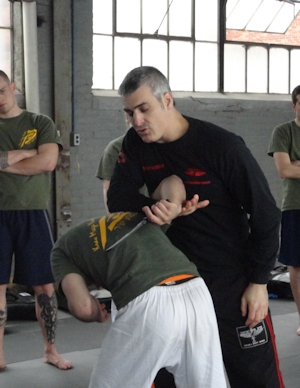 In April 2012, Krav Maga Yashir Boston moved into a 16 000 sq ft studio in Charlestown, becoming the largest dedicated Krav Maga training facility on the U.S. East Coast. To mark this event, David Kahn of the IKMA (Israeli Krav Maga Association - createed by Krav Maga founder Imi Lichtenfeld, and the US Representative of Haim Gidon, creator of the Gidon System of Krav Maga) conducted two one day seminars in the new space. The first was dedicated to "Unarmed Assaults" whilst the second looked at attacks and threats involving knives and blades.
David is the best selling author of several Krav Maga books and one of the foremost ambassadors of Krav Maga, promoting it as a system that should be adopted by top law enforcement agencies and military units. Gershon Ben Keren - the head instructor at Krav Maga Yashir - has known David for a number of years, bringing him to conduct seminars at his schools in London and has trained with him both in Europe and in Israel (at the Headquarters and Official Training Center of the IKMA - the Israeli Krav Maga Association). David curently teaches Krav Maga in New Jersey.
Ran Steinberg - April 2011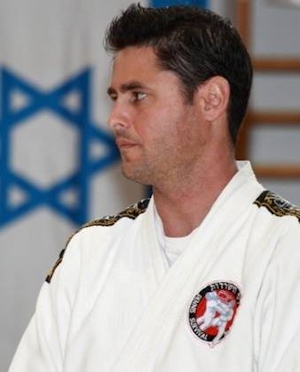 Ran Steinberg is a 7th Degree Black Belt in Dennis Hisardut - the fighting system created by Dr Dennis Hanover and used by elite units of the IDF. After Dennis Hanover was awarded a lifetime achievement award by the World Family of Sokeship Council in April 2012, and representatives from Israel came to Florida to attend the ceremony and put on a demonstration of Dr Hanover's system (Gershon Ben Keren was in the "team" that put on demonstrations of the system), 7th Degree Black Belt Ran Steinberg came to Krav Maga Yashir in Boston - which was then part of the Hisardut family - and conducted a Hisardut seminar.
The seminar was a mix of the traditional martial arts training that is the foundation of the Hisardut system e.g. Judo, Karate and Ju-Jitsu, and the self-defense techniques that are derived from this. The seminar was held at the schools old location in Medford.